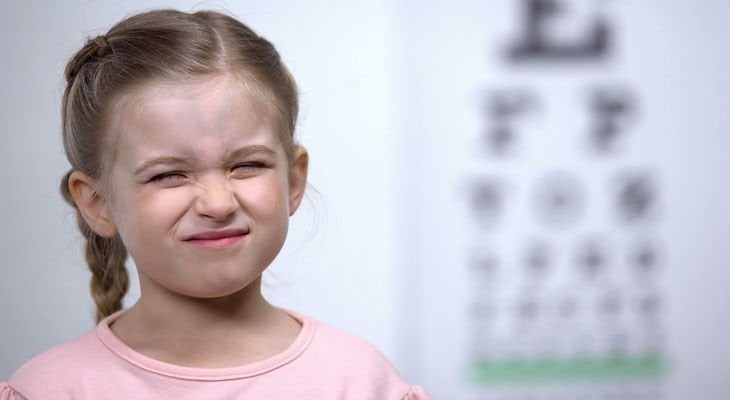 Simply put, accommodative dysfunction means that the eyes have difficulty focusing properly. Studies suggest that between 2 and 17% of children may suffer from accommodative dysfunction. The nature of this disorder means that it sometimes goes unnoticed in standard vision screenings conducted at school. Thus, it is important that parents schedule a comprehensive eye exam for children, particularly if an issue with focusing is suspected.
What Is Accommodative Dysfunction?
In kids with normal vision, each eye functions independently, while the brain ties visual information to create a cohesive visual image. The brain directs eye movements, allowing a person to focus on nearby objects as well as those that are far away. These calculations are done subconsciously, meaning that it requires no effort to switch from near vision to distance vision.
For people with accommodative dysfunction, however, the eyes and visual system do not work together appropriately. Particularly when trying to look at nearby objects, the eyes do not focus properly. A variety of symptoms may result, including:
Blurring of nearby objects
Visual discomfort, such as soreness or strained eyes
Headaches (often in the front or sides of the head)
Sensitivity to glare
Dizziness
Difficulty sustaining attention on nearby objects, such as during reading
Rapid fatigue
Moving work closer or farther away, or tilting the head to improve focus
Having accommodative dysfunction makes it difficult and unpleasant to do close-up tasks such as reading. As a result, some children are incorrectly diagnosed with a learning disability.
Diagnostic Procedures
An optometrist can conduct a comprehensive eye exam to diagnose accommodative dysfunction and rule out other possible explanations for symptoms. After taking a thorough patient history, your eye doctor will test visual acuity and the performance of your eye muscles in controlling the eyes. You may be asked to follow a small object with your eyes, view objects through a prism, or perform other eye tests.
Treatment for Accommodative Dysfunction
Using reading glasses for close work is a common way to correct focusing problems. However, vision therapy is typically necessary to retrain the eyes to work well together. Vision therapy includes in-office appointments as well as at-home exercises. The purpose of this therapy is to improve the speed and accuracy of a typical focusing response, making the eyes used to working together to focus on nearby objects.