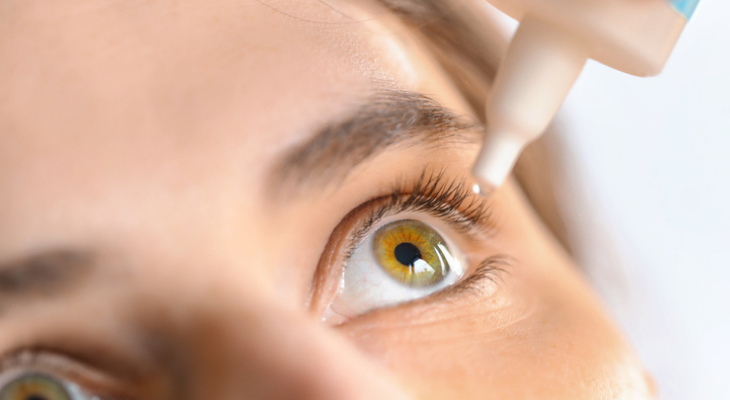 Hate Wearing Reading Glasses? Presbyopia Eye Drops Could Improve Your Age-Related Vision Problem
Until recently, reading glasses or multi-focal lenses were the only options for vision changes due to presbyopia, an age-related problem that makes near objects look blurry. Fortunately, that's changed with the introduction of new type of prescription eye drops.
How Presbyopia Affects Your Vision
The lens of your eye, a clear, disc-shaped structure behind your iris, constantly changes shape to help you focus on objects far away and close by. As you get older, the lens stiffens and doesn't move as easily as once did.
When this happens, the lens can't focus light rays on your retina properly, which makes close objects look blurry. (The retina is a layer of light-sensing cells at the back of the eye.) The condition, called presbyopia, usually starts at age 45 or later, according to the National Eye Institute.
If the words on a page look blurry, you can't read the small print on a label, or you need more light to see close objects, make an appointment with your optometrist. Although presbyopia is probably the cause of the problem, it's important to rule out other eye conditions or diseases that could affect your vision.
Eye Drops Offer a New Way to Treat Presbyopia
Reading glasses, bifocals and trifocals, and progressive lenses improve your near vision when you have presbyopia. Unfortunately, the improvement in your vision only lasts as long as you're using your lenses. Recently, Allergan introduced a new type of FDA-approved eyedrop that helps you see close objects clearly without eyeglasses or contact lenses.
VUITY (pilocarpine HCI ophthalmic solution 1.25%) is a once-daily prescription eye drop designed to make it easier to see close up. The drops improve near vision by reducing the size of your pupil, the opening in the middle of the colored iris. Narrowing the pupil improves your ability to focus on near objects.
The eye drops enhance near and intermediate vision for up to 6 hours and start working just 15 minutes after you place them in your eye. Although your near vision will be clearer, your far vision won't suffer.
The eye drops are most helpful if you have mild to moderate presbyopia. People who use VUITY experience a 3-line improvement in near vision when reading an eye chart and may only lose 1 line in their distance vision, according to Allergan, the manufacturer of VUITY.
You'll need to put one drop in each eye every day to maintain your results. Since the drops don't keep your vision clear for 24 hours, you may still have to use your glasses or contact lenses sometimes. The drops are most helpful during the day and shouldn't be used at night
The most common side effects of VUITY are redness and headache, according to the VUITY website. Some people also found it little more difficult to shift their focus from a near object to a far one.
Although VUITY is the first eyedrop approved for presbyopia, it won't be the last. All About Vision reports that several other companies are conducting clinical trials to test their own presbyopia eye drops.
Could VUITY improve your vision? Contact our office to find out if you're a good candidate for presbyopia eye drops.
Sources:
Ophthalmology Times: FDA Approves Eye Drops for Treatment of Presbyopia, 10/30/2021
Good RX: What to Know About Eye Drops for Presbyopia, 11/5/21